Services & Rates
Couples Massage
Share a wonderfully relaxing personal experience with your favorite person. During the session, two persons receive a massage at the same time, in the same room, with different therapists. It is an experience for spouses, mother's, daughters, sisters, and friends.
4 Session Package Deal
In order to make your therapy more affordable we are offering a 4 session package deal. The package deal gives you a discount of $10 off each session saving you a total of $40. The purpose of the package is to encourage more frequent and regular visits. The re-education of soft tissue is imperative for structural function and often cannot be accomplished in a single visit. The package deal is the first step in your commitment to improving YOUR health and wellness.
Swedish Massage
Swedish Massage is a very relaxing and therapeutic style of bodywork. It combines oils or lotion with an array of strokes such as rolling, kneading, and percussion to help the body improve its circulation. The benefits of this type of bodywork are wide-ranging and include relief from aches and pains, decreased stress levels in the body, enhanced mental clarity, improved appearance, and greater flexibility.
Deep Tissue Massage
Deep Tissue Massage is a form of bodywork that aims to relieve tension in the deeper layers of tissue in the body. Deep Tissue Massage is a highly effective method for releasing chronic stress areas due to misalignment, repetitive motions, and past lingering injuries. Due to the nature of the deep tissue work, open communication during the session is crucial to make sure you don't get too uncomfortable. Keep in mind that soreness is pretty common after the treatment, and that plenty of water should be ingested to aid with the flushing and removal of toxins that will have been released from the deep tissue during the session.
Sports Massage
Sports Massage is a type of massage designed for highly active people who engage in athletics. Engaging in sports is harsh on the body and can often lead to injuries in both the short and long term. Sports Massage enhances performance and prolongs a sports career by helping to prevent injury, reduce pains and swelling in the body, relax the mind, increase flexibility, and dramatically improve recovery rates. Sports Massage is also highly effective in aiding the rapid recovery of an athlete from an injury by encouraging greater kinesthetic awareness and in turn promoting the body's natural immune function.
Neuromuscular Therapy
Neuromuscular therapy is a system of massage techniques that were developed in the 1930's by Dr. Stanley Lief in England. It uses a holistic approach towards healing, emphasizing and stimulating the body's natural ability to heal itself. Neuromuscular therapy also enhances the function of joints and muscles, and accelerates the overall healing process by facilitating the release of endorphins.
Geriatric Massage
Geriatric massage is a form of massage designed to meet the specific needs of the elderly. It helps to improve blood circulation, relieve pain, and also increase range of motion. If you are elderly, geriatric massage can help you maintain and improve your overall health, as well as regain certain physical functions that have been reduced due to aging. In addition, since the elderly don't typically receive enough physical touch, this massage can also help alleviate symptoms of loneliness or depression.
PTSD Massage
According to the National Institute of Mental Health, post-traumatic stress disorder (PTSD) develops in some people who have seen or lived through an event that is shocking, scary or dangerous. These events might be combat related, for example, or involve violence, abuse, or trauma.
Stress relief, decreasing anxiety, reducing depression and improving personal mood are all positive outcomes massage may provide clients. Additionally, a 2012 study focusing on how integrative therapies can help promote reintegration among veterans found that those participants who received massage therapy reported significant reductions in physical pain, tension, irritability, anxiety/worry and depression.
Another recent study of Somali women refugees with chronic pain--the majority of whom reported military and/or sexual trauma--found that massage therapy provided enormous relief for distressing physical and psychological symptoms largely attributed o the exposure to trauma, according to Cynthia Price, a research professor at the University of Washington and massage therapist.
Massage therapy gives clients with PTSD a feeling of comfort, safety, and control they often can't achieve on their own.
Orthopedic Massage
Orthopedic massage is a style of massage therapy focused on treating painful conditions that affect the soft tissues of the body. Because orthopedic massage is designed to treat medical conditions, it requires extensive training. It involves releasing tense muscles, helping to stretch and lengthen tight muscles and tendons, decompress rigid joints, and increasing range of motion. Our goal is to restore full health to the soft tissues of your body, both treating your specific conditions as well as improving your overall well-being.
Gentlemen please wear or bring shorts to change into.
Ladies please wear or bring shorts and sports bra to change into.
Trigger Point Therapy
Trigger Point Therapy is a style of bodywork that focuses on stimulating and releasing "trigger points" in your body. Trigger points are tender areas of tension similar to acupressure points, except they occur in the belly of the muscle rather than along the energy pathways of the body. These "knots" are built up throughout a person's life due to physical, mental, and/or emotional stress. During a session, focused pressure is applied through a variety of techniques order to release your trigger points. This process can be quite painful at times, yet the effects are lasting and profoundly transformative.
Myofascial Massage
Myofascial massage is a technique used to treat injuries and discomfort, reducing pain and increasing range of motion. Myofascial massage differs from other types of massage in that it targets the fascia - the membrane surrounding muscles - rather than the muscle itself. Since fascia completely encases every muscle in the body, imbalances in the fascia can have serious effects on your range of motion and comfort level. While other forms of massage can overlook the fascia, myofascial massage focuses specifically on releasing tension in this important membrane.
25% OFF - Facebook Live Special!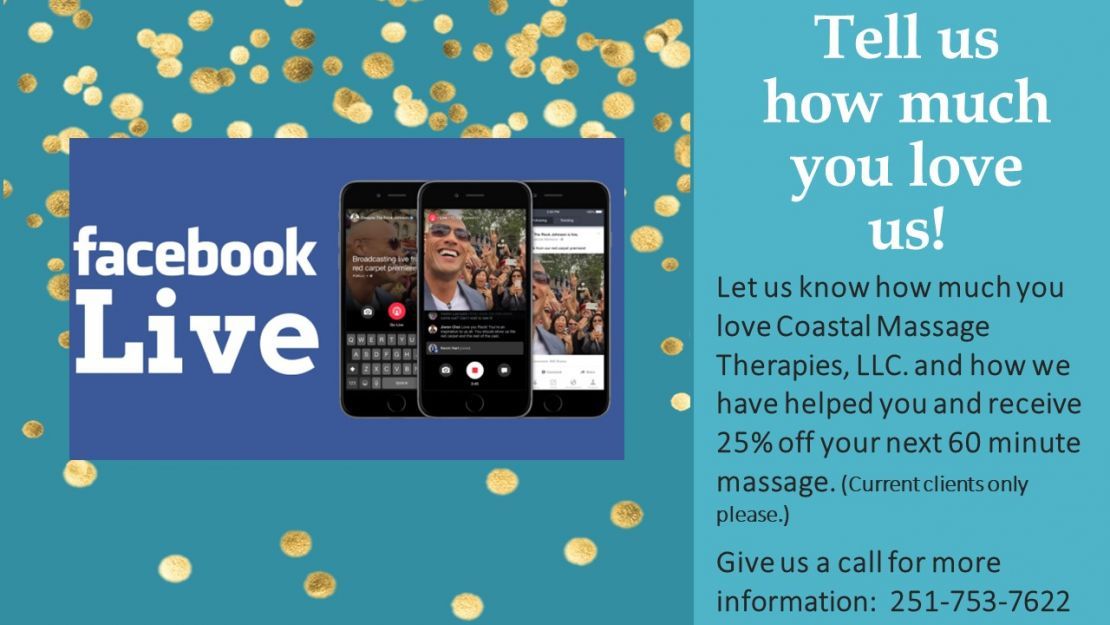 Let us know how much you love Coastal Massage Therapies, LLC. and how we have helped you and receive 25% off your next 60 minute massage. (Current clients only please.)